RULES

Instructions
- The tournament consists of 32 or 64 doubles,
- The cuples should play against the cuples , that are within each group.
- Each match will be 6 tables with 2 players from each pair was assigned 1 point for each table won.
- Cuplés rank the top 4 in each group.
- Create a record of the players won, lost and played for a % return for each player in the group stage.
- In the final round (play-off), couples will be assigned based on performance of each player ranked.
- Rules of play-off will be announced when the group completed.
General
- The tournaments take place in Gz Global/ GzLATINO room of Gamezer.
- The registration must be done in the correct official way by each player himself.
- With the registration any player agrees with the Tournament rules, which are published in the The World Of Gamezer Forum.
- All Tournament games are played without guide. If a player invites you for a tournament game with guide, reject.
- In case of a bad mouse button contact, the opponent can as a sign of fair play put back the cue ball to its original position.
Championship Account
- Every player is allowed to play in the tournament with one account only.
- Any player of the tournament is allowed to play with his registered tournament ID only.
- The nick name of every participating player must show ASCII characters only.
- The player must play with the flag of his country.
- The player has to play with his registered account until he finishes the tournament.
- To hide the flag or the nickname is forbidden.
- In case of multiple accounts a player should use only his highest account for Championships.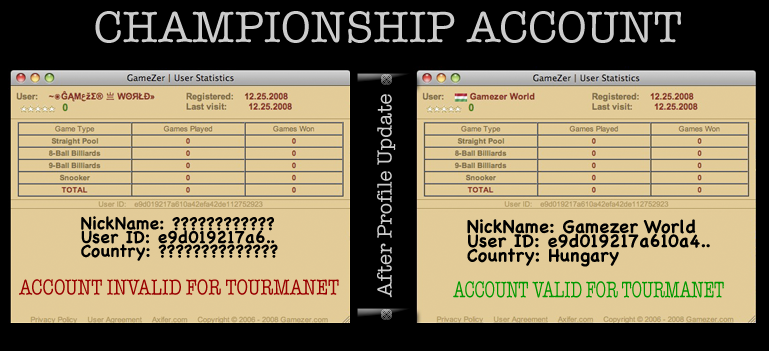 You are allowed to use ASCII characters only, ASCII characters:

Disqualifications
- When the game starts, all the visitors of the game must be silent.
- If a player raises an objection, the referee must decide what to do.
-
Any player who does not play more than 50% of his group games will be
disqualified and all his played games will be evaluated as lost.
- In case a player misses his opponent for a tournament game he should paste an up-call for the other one in Wanted topic.
- The use of guide programs is strictly forbidden. If such an abuse is discovered you will be disqualified immediately.
-
Insulting the other player or the referee is strictly forbidden. If
this happens the moderator may expel the insulting player from the
competition.
- In case of discovering account sharing in a tournament disqualification obligatory.
- In case that a player make more than 3 up-calls to a player this player can take a penalty.
- If someplayer is doing up-calls just to try to win this player will be automaticly out of championship.
8-Ball
-
In case of disconnection, if the difference is 4 or more balls and the
player who is loosing disconnects, he looses the game; if the player who
is winning disconnects, repeat the game.
- If a player disconnects 3 or more times, he looses the game.
-
When only LAST Ball is left on the table for any of the players, the
frame will be counted as a lose for the player who disconnect.
- In case the player do not shot correct his ball, he will be sanctioned. If he repet, he will be eliminated.
- In case of tie, lose the player with more desconecction,
Last edited by Julliet on Fri Dec 30, 2011 10:06 am; edited 1 time in total
Administrator





Mensajes

: 20


Score

: 2783


Fecha de inscripción

: 2011-12-29



REGLAS



Instrucciones
- El torneo consta de 32 o 64 dobles,
- La Dupla deberan jugar contra las Duplas, que están dentro de cada grupo.
- Cada partido será de 6 mesas con 2 jugadores de cada pareja se le asignara 1 punto por cada mesa ganada.
- Rango de duplas, los 4 primeros de cada grupo.
- Crear un registro de los juegos ganados, perdidos y jugados para un porcentaje para cada jugador en la fase de grupos.
- En la ronda final (play-off), las parejas se basan en el desempeño de cada jugador clasificado.
- Reglamento de play-off se darán a conocer cuando la fase de grupos este terminado.
General
- Los torneos tienen lugar en Gz Global / sala de GzLATINO de Gamezer.
- El registro debe hacerse en la forma correcta por cada jugador oficial.
- Con el registro de cualquier jugador está de acuerdo con las reglas del torneo, que se publican en los foros de gamezer.
-
Todos los juegos del torneo se jugaran sin su guía. Si un jugador le
invita a un juego del torneo con un guía, este debe ser rechazado.
-
En caso de un contacto del mal funcionamiento del mouse (raton), el
oponente puede en señal de juego limpio volver la bola a su posición
original.
Campeonato de la cuenta
- Cada jugador se le permitira jugar en el torneo con una unica cuenta.
- Cualquier jugador del torneo se le permite jugar en el torneo con su cuenta identificada.
- El nombre de la cuenta de todos los jugadores participantes deben mostrar caracteres ASCII.
- El jugador debe jugar con la bandera de su país.
- El jugador tiene que jugar con su cuenta registrada hasta que termine el torneo.
- Ocultar la bandera o el apodo está prohibido.
- En caso de uso de varias cuentas de un jugador debe usar sólo su más alta consideración para los campeonatos.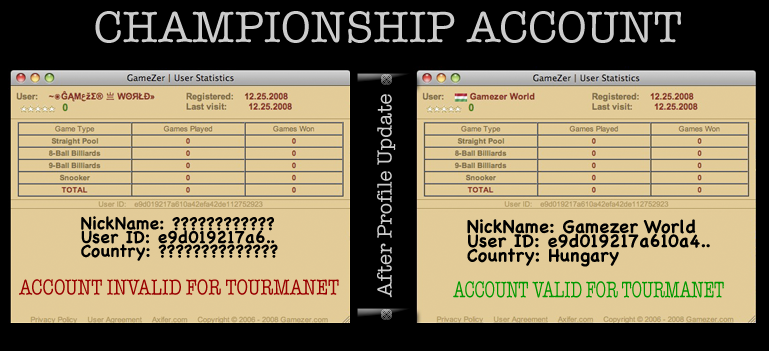 Usted está permitido el uso de caracteres ASCII, caracteres ASCII:
descalificaciones
- Cuando se inicia el juego, todos los visitantes del juego deberan eprmanecer en silencio.
- Si un jugador propone un comentario en pleno juego, el árbitro debe decidir qué hacer.
-
Cualquier jugador que no juega más del 50% de los juegos de su grupo
será descalificado y todos sus juegos serán evaluados por perdido.
-
En caso de que un jugador no pone a su oponente durante un partido del
torneo que debía pegar un up-convocatoria de la otra en el tema Wanted.
- El uso de programas guía está estrictamente prohibido. Si tal abuso se descubre usted será descalificado inmediatamente.
-
Insultar al otro jugador o el árbitro es estrictamente prohibido. Si
esto ocurre, el moderador puede expulsar al jugador insultante de la
competencia.
- En caso de descubrir un intercambio de cuenta, la descalificación del torneo sera obligatorio.
- En caso de que un jugador hace más de 3 llamadas a un jugador, este jugador puede tener una sanción.
- Si está haciendo hasta muchas llamadas sólo para tratar de ganar este jugador será automáticamente fuera del campeonato.
8 ball
-
En caso de desconexión, si la diferencia es de 4 o más bolas y el
jugador que está perdiendo se desconecta, se pierde el juego, si el
jugador que está ganando desconecta, repita el juego.
- En caso de un jugador se desconecta 3 o más veces, se pierde el juego.
- Cuando sólo queda la ultima bola en juego, el marco se contará como una perdida para el jugador que se desconecte.
-
En caso el jugador no intente darle a sus bolas y juegue de manera
intencional hacia las bolas del oponente o hacia la negra el jugador
sera sancionado, de volverlo a repetir sera eliminado.
- En caso de empate, el jugador que tenga mas desconecciones pierde
Administrator





Mensajes

: 20


Score

: 2783


Fecha de inscripción

: 2011-12-29



---
Permissions in this forum:
You
cannot
reply to topics in this forum